It's that time of the year once again. The time all the sports game franchises churn out the 'new and game-changing' title that is meant to revolutionize the way we play sports games. Unfortunately, that very quote has not really been fully accurate since around 2012. In our current society, the new release of a sports game really just means the graphics look a little nicer, the gameplay has been minutely altered and the soundtrack has been updated. FIFA 21 unfortunately follows this process wonderfully.
BYE BYE INDIE MUSIC
One of the most iconic things about FIFA has always been the game soundtrack. It sounds like a minor detail, but when you consider how long you spend in the game menus it's quite important to have the music there you actually want to listen to. With FIFA 21 it's a case of if you don't like grime or rap you can get out! (To quote South Park)
The music range is so limited this year and, coming from someone that is nowhere near as down with the new music as he wants to be, the soundtrack just gave me a headache after a while.
CAREER MODE FEELS A BIT MORE LIKE A CAREER CHOICE
Career mode has always been the game mode I have spent the most time on and thankfully, a lot more investment has been made into the game mode. For the most part, it is very similar to the previous years but additions to training methods, scouting areas, and financial takeovers can make your gameplay experience last that little bit longer.
The new match simulator mode is quite a fun addition as well, allowing you the option of watching the match and jumping in whenever feels necessary. More players don't renew their contract and the end of the season as well, adding a new level of realism to the experience of a career. A perfect example would be that I was able to acquire Julian Draxler from the free agent pool after the first season.
The dynamic potential is a nice new addition but can get out of hand very quickly. If your player continually plays well their rating will skyrocket, but their rating growth also relies on them actually playing. Having a youth player stuck in the reserves will do nothing for their level of growth, unfortunately.
SWING AND A NEAR MISS FOR GAMEPLAY
Gameplay is obviously the main feature of FIFA and the most crucial thing that needs to be right in order for the game to work properly. The main issues from the last game have been addressed but have created new problems of their own. The crossing has been moderately fixed, with your players now realizing they have the ability to head the ball when a cross floats into the box and the opposition's defenders not being built like the Incredible Hulk.
Goalkeepers are still appalling though. They will either become prime Manuel Neur and be able to stop everything, even if they are in the bottom leagues, or they will have butterfingers galore and not be able to save a single shot. There's no middle ground, unfortunately – it's either one or the other.
Now let's talk about defending. FIFA 20's problem was that the defenders were too fast and could catch up to any attacker possible, regardless of how much pace they have. Now, they are slower than ever, with even the oldest and slowest players being able to skip past them with ease. Honestly, if you just go down to a walking pace you can easily skill your way past any defender.
SAME OLD ULTIMATE TEAM
Yep, Ultimate Team is still here and always will be. There has been a lot of controversy surrounding the Ultimate Team and its micro-transaction like the roulette system, but the game mode is still very popular in the community so will not be removed anytime soon. You know the drill by now, you can either play to win coins towards getting new player packs or buying players from the market, or you can invest your own money to get coins and eventually a better team.
Obviously, you don't need to invest money if you don't want to, but the chances of you getting a decent team are slimmed massively and require a lot more work to achieve compared to those who can buy packs straight away.
The club customisation options have expanded a bit which is a welcome relief. Stadiums can be altered to suit your team and colour schemes can be altered to your desire. You can also add your own tifos to the stadium to make it really feel like home. It would have been nice to have this in career mode as well, but alas we cannot ask for too much now!
Just a small issue from me. The walkouts now take an absolute ice age to complete, which grows so tedious after a while. Especially when you know you are going to end up with a dire player.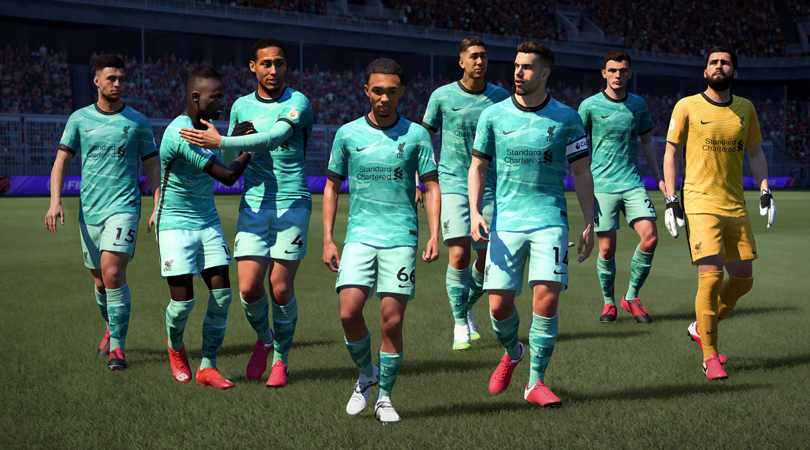 FINAL OPINION
You know exactly what you are going to get with FIFA and FIFA 21 has some misses but a significant amount of hits. Player faces could be improved with some key players missing their actual faces but that's only a minor point in the grand scheme of things. It feels substantially better than FIFA 20 and it's definitely a game that will get a lot more game time from me than the previous title. There are still a lot of gameplay elements that need improving so hopefully, a patch will address them very soon.
Featured Image Credit: EA Sports