Another day, another gaming rumour – and this time it is apparently that while we don't even have Call of Duty: MW2: Campaign Remastered officially confirmed, there's already talks of a Modern Warfare 3 remaster coming straight after.
It seems that all of the franchise is getting a shiny remaster treatment, and according to GamesRadar, it won't be much longer to wait to see the next in the line-up.
MW3 Remastered has been getting worked on for a while now too so I wonder how/when that's going to drop

— TheGamingRevolution (@TheGamingRevo2) March 27, 2020
Noted Call of Duty leaker TheGamingRevolution tweeted yesterday that a remaster of Modern Warfare 3 has been "worked on for a while now" – although it is important to note that they were unable to clarify Activision's release plans for the rumoured project.
BREAKING: Purchase MW2 Campaign Remastered to receive the "Underwater Demo Team Classic Ghost Bundle".

It is available in Modern Warfare + Call of Duty Warzone. pic.twitter.com/2RdOd8YOMr

— Call of Duty Modern Warfare News (@MWModernWarfare) March 30, 2020
While we all wait with baited breath to find out just when we'll be able to get our hands on the new Call Of Duty MW2: Campaign Remastered, it's rumoured to be dropping either today (Tuesday 31 March) or in the next coming days.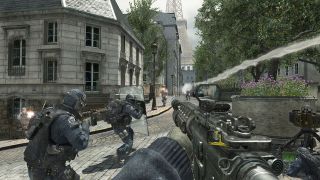 According to reputable video game journalist, Nibel, the new Call Of Duty game has already been spotted on the German PSN store, and VideoGamesChronicle had already touted the game's release for 'later this week'.
Modern Warfare 2 Campaign Remastered will drop this week according to VGC

Details: https://t.co/JJ3C7R2ZK4 pic.twitter.com/uHBTXyVdZB

— Nibel (@Nibellion) March 30, 2020
And just as I tweet this: MW2 page is up on the German PSN store; launching tomorrow for 24,99€https://t.co/xNopxUHBT0 pic.twitter.com/CbJkWh0ema

— Nibel (@Nibellion) March 30, 2020
After quoting the original article, Nibel then quickly added an additional tweet showing screenshots from the German PSN hinting at its imminent arrival. It is important to note that there is currently no sign of it on the UK PSN store, however if this changes we will update this article so please stay tuned.
While there has been no official confirmation from Activision that the artwork is actually tied to any upcoming releases, it's caused a lot of excitement among fans.
Call of Duty blog Charlie Intel and Eurogamer both reported that, according to their sources, the remaster will only include the single-player campaign, and new evidence has since supported this. No multi-player function? No problem.
Just last week, the first rumours of Call Of Duty: Modern Warfare 2 Campaign Remastered were brought to light courtesy of known video games leaker, Nibel on Twitter, who recently shared a link to the South Korean games ratings board. Following the link will show you that "Call of Duty: Modern Warfare 2 Campaign Remastered" has been rated.
In other CoD news, with Call of Duty: Modern Warfare and Warzone now launched, supposed details of the 2020 edition of the franchise are coming to light. As always will rumours like these, take them with a pinch of salt for now.
The new rumour comes from known CoD leaker The Gaming Revolution, who has been more correct than not when it comes to previous leaks.
This time around it's being claimed that the 2020 Call of Duty game will be a reboot of Black Ops, in a similar vein to the 2019 reboot of Modern Warfare. According to the leak, the game is being developed by Treyarch, which aligns with what we're expecting for the series.
Excitingly for CoD fans, there's a lot that The Gaming Revolution has leaked, including the game's campaign and multiplayer mode.
The campaign will allegedly be set in the time of the Vietnam War and the Cold War, which is a rumour we've heard before. The game will reportedly have a focus on realism, and will try to be darker and grittier than 2019's Modern Warfare.
It's claimed that the game will explore the narratives of different areas, including South Vietnam, the Viet Cong and the United States. Returning characters allegedly include Alex Mason and Frank Woods, though they'll be played by different voice actors.
Featured Image Credit: Activision