Although Todd Phillips' Joker starring Joaquin Phoenix, has made an absolute splash at the box office, it doesn't mean that everyone is impressed with the new take on the iconic character.
But that doesn't stop me also remembering the middle guy in all of this, Jared Leto. Now let's be completely fair here, I don't think we can genuinely make an actual decision on whether or not he played his Joker to the best we've seen to even be able to put him on a level with Heath or Joaquin – but that's not through a fault of his own.
Video you'll love from around the web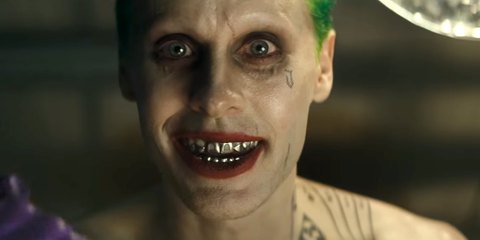 Leto was kind of left out to dry by the creators of Suicide Squad, who ultimately missed a trick by only really including him in the film for a few scenes at best.
How can we as the audience truly make an opinion on his portrayal of one of the most iconic villains of all time if we can't even see much of the footage of him acting? Plus, Suicide Squad ended up being such a sh*t-show, that the main thing everyone took away from the film wasn't the calibre of acting, but the ridiculous story arc and how much it failed to step up to the mark.
So you can understand why Leto would be a bit peeved to find out that he'd been pipped at the post to give his Joker role another shot in favour for Joaquin Phoenix, and he's reportedly still sore about the whole thing – especially in the wake of its box-office success.
According to Hollywood Reporter writer Tatiana Siegel, Leto felt "alienated" when Warner Bros greenlit the new film. After all, in 2018, it was announced that Leto would star in HIS own standalone film, which would have been billed as a Suicide Squad spin-off, but both that and a Harley and Joker movie were axed from Warner Bros. projects shortly after.
In an interview a few years back, Jared said he was 'confused' at his non-involvement in the character's future. He said: "I'm a little confused too, but yeah, there are a couple of things happening in the DC world… I loved the Joker, he's a great character, a really fun character to play.
"It's a big universe and when you play the Joker, there's no ownership there. You have the honour of holding the baton for a little while and then passing it off. But there are other films in development and I'm excited to see what comes from them".
Personally, I think he should fund and create his own version. Maybe then we'll all get to have an accurate decision on what we truly think about Leto's version.
[Featured Image Credit: Warner Bros.]