Just when you think you've squanched everything there is to squanch about Rick and Morty, co-creator Justin Roiland has a gift from the gods. Sadly, it isn't the second run of episodes from Rick and Morty Season 4, however, it is his zany new show called Solar Opposites — a nice little space pun there.
Back in 2013, Roiland and work partner Dan Harmon turned a one-off Back to the Future skit they'd created into a full-blown show for Adult Swim. Imagining what life would be like if Marty McFly was forced to go on X-rated adventures and Doc Brown was actually his alcoholic grandfather, Rick and Morty blew the sci-fi community away.
Although it's been a long, long, long, long road to get to where we are today, Rick and Morty is still going strong and there's plenty more to come from the dysfunctional duo. While we wait to see where Dimension C-132 Rick and Morty go next, Solar Opposites will do just nicely.
Alongside a particularly NSFW trailer, Solar Opposites lets animation addicts know a little more about what to expect from the Hulu series. The description explains how the show follows "a family of aliens from a better world who must take refuge in middle America. They disagree on whether this is awful or awesome".
The basic premise centres on the extraterrestrials as they crash land on Earth following their planet's destruction, and conveniently move into a ready-made home.
Roiland will lead the ensemble as Korvo, but there's an impressive roster of guest stars that's set to include Rainn Wilson, Christina Hendricks, Alan Tudyk, and Tiffany Haddish. We're getting a very Simpsons vibe — well, if it included a lot of dead birds and zombie teenagers.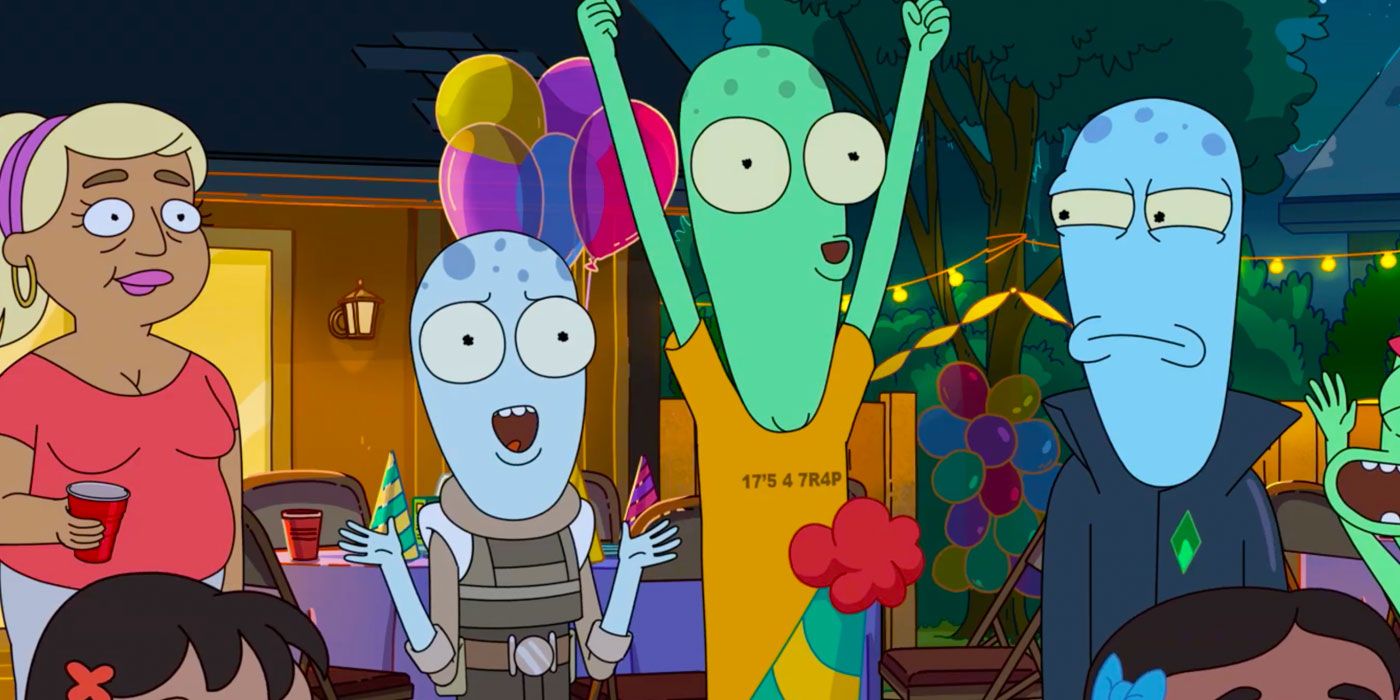 There's also recreational heroin, eggplant emojis, and plenty of puns about "Uranus". What more could you want/expect from the mind of Roiland? The trailer came with a typically Roiland message that read: "Solar Opposites is coming! We can only show you the teaser right now, but the whole season will be out in a matter of weeks! Stay inside and stay healthy so you can watch and love this show and call us geniuses and all that sh*t."
The venture is between Roiland and former Rick and Morty head writer, Mike McMahan. Hulu is also powering ahead with a slate of adult animation and is currently working on a whole host of Marvel shows that aren't just for kids. If the trailer doesn't have you pumped for Solar Opposites, the series premiere on May 8 will hopefully have you reaching for the stars.
[Featured Image: Adult Swim/Hulu]