Square Enix is upping its diversity quota by officially adding Ms. Marvel to Marvel's Avengers. The all-star line-up includes Marvel Cinematic Universe favourites like Thor, Captain America, Iron Man, Black Widow, and Hulk.
We already knew the likes of Hank Pym and villains like Taskmaster and Abomination would be part of the game, but now, Kamala Khan is joining the impressive roster of heroes.
When footage of the game emerged at Comic-Con International, eagle-eyed players noted a young woman wearing a Captain Marvel t-shirt. Some guessed this would be Kamala Khan, aka Ms. Marvel. While speculation has been running rife, we have an official answer.
In a statement to ComicBook, Square Enix confirms Khan is in Marvel's Avengers, but wouldn't confirm whether she picks up the Ms. Marvel mantle:
"Yes, that was a young Kamala Khan on the bridge of the helicarrier during the attack. We'll have more details on how she'll fit into the game at a later date."
Marvel's Avengers follows a five-year time jump as Earth's Mightiest Heroes are forced to reunite following a deadly event involving "an experimental energy source." All superheroes are outlawed after the A-Day disaster, but a new threat spurs the Avengers into action once again.
Given that Khan is there on the bridge during A-Day, a five-year jump could be enough time to see her slip into her Ms. Marvel spandex. Others have guessed Khan is the person narrating the latest trailer, suggesting she will play a bigger part than we first thought.
Either way, the inclusion of the young Muslim hero is a big push toward diversification. It's also interesting to note Khan still hasn't appeared in the MCU. Khan is the fourth person to take on the title of Ms. Marvel after growing up idolising Carol Danvers.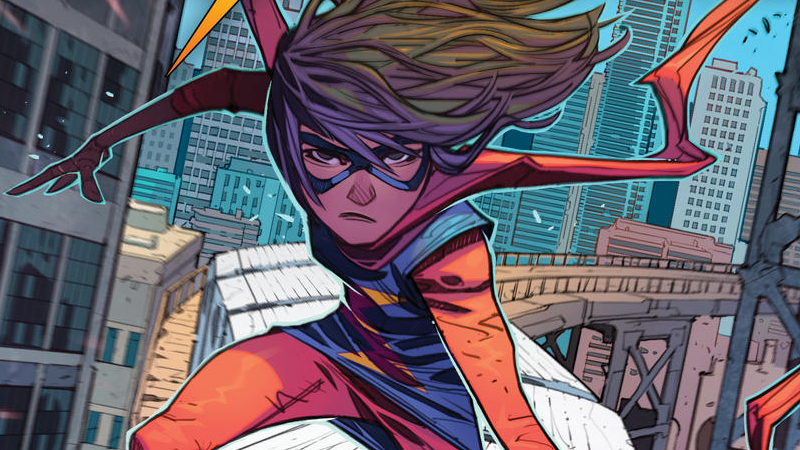 In the MCU, we've only just met Brie Larson's version of Danvers, so Khan is still probably a way off. However, with rumours of a Young Avengers movie — and Kevin Feige promising more diversity — Khan's inclusion is increasingly likely.
For anyone underwhelmed by Marvel's Avengers thanks to some questionable graphics, at least the storyline should lure a few more people in. Hoping to continue the success of Insomniac's Spider-Man, Square Enix's title could tie into a larger MGU (Marvel Gaming Universe).
At least Khan is another fan-favourite character we can add to the list of Marvel's Avengers' famous faces.
[Featured Image: Square Enix]