Video game and board game enthusiasts take note, because your dream vacation has just become a reality.
If you want to show off your competitive side, the amazing Great Escape Lakeside Vacation Rental is in Clermont, Florida, and is just a stone's throw from Walt Disney World.
Video you'll love from around the web
Picking your perfect Airbnb can be a game of Battleships in itself, but now, The Great Escape Lakeside Vacation Rental is saying checkmate to the competition. You'll have to 'scrabble' over who gets the master bedroom!
With a giant game of Operation, there's also the world's largest word search, a Pac Man-themed bedroom, and a Cluedo escape room. Nothing has been left to chance as everywhere you look there are homages to some of the world's most famous board games.
For example, the wardrobe in the Monopoly room looks like a jail, the Pac-Man room has a bed shaped like that ghost gobbler, and you can even sleep next to Zoltar from Big. Speaking of which, there's also a version of the electric piano that famously featured in the Tom Hanks-led movie.

The details don't end there though, you can climb a Donkey Kong staircase, play Las Vegas slots, and try your luck with the Wheel of Fortune. My personal highlight is the Jumanji-inspired theatre. There's a rumble in the jungle as you can sit back and watch Joe Johnston's 1995 classic in all its glory.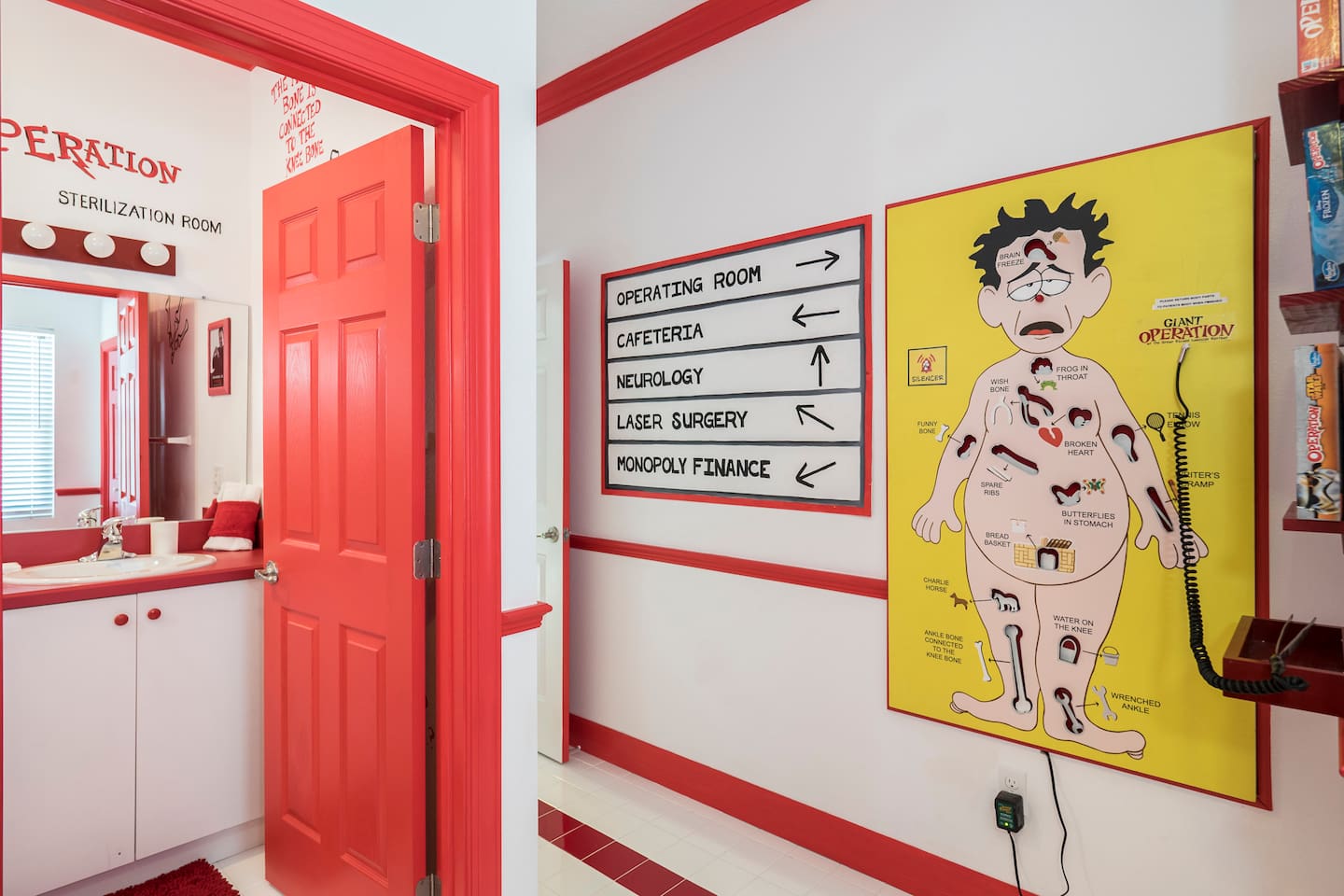 Heading outside, the fun literally never stops. You can go human bowling with giant zorb balls, watch sports on a supersized outdoor TV, and even play human foosball. All of this is before you get to the pièce de résistance of a mahoosive 20,000-gallon pool, complete with lazy river and TWO water slides.
If you can gather your pals, the mansion is a gamer's paradise as it boasts 13 bedrooms. Sleeping up to 43 people, it sounds like the perfect getaway to celebrate a big birthday or host your own murder mystery weekend — no actual murders though, please.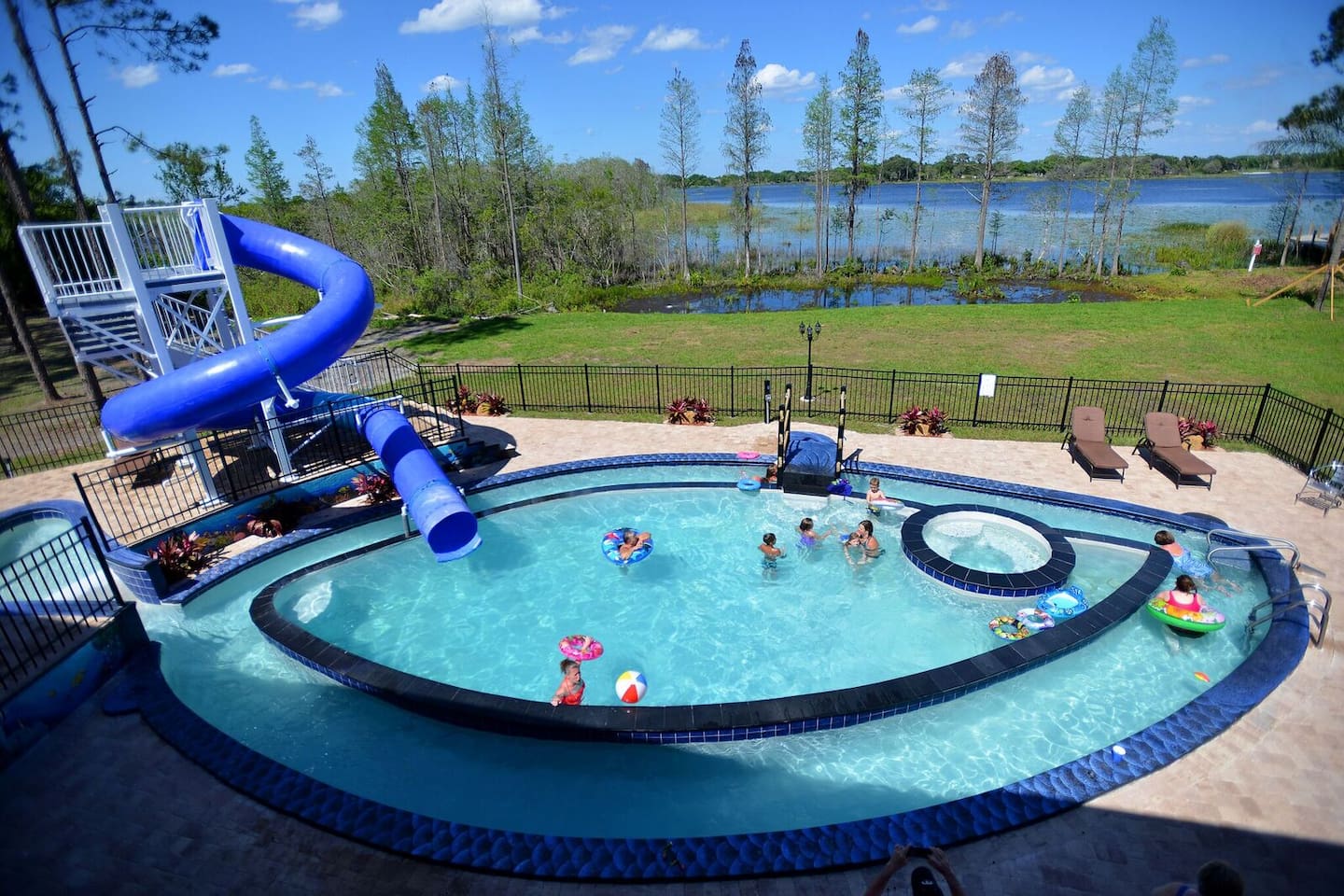 Costing $1745 per night during peak season might sound like a lot, but dividing that between 43 of you only comes out at $41 per person. In fact, a week at Christmas will set you back $13,715 and works out at $318 per person. Not bad for a festive getaway for a week in a place as magical as this.
Andrew and Belinda Greenstein are clearly gaming mad, which might explain why they've just opened their second themed rental called Great Escape Parkside in nearby Groveland.
Speaking to the Orlando Sentinel, Andrew Greenstein explained, "My family and I have played in escape rooms across the world and wanted to bring that idea here."
The Airbnb description really doesn't do the house justice: "A one-of-a-kind estate home featuring giant waterslide, lazy river, fishing, boating, an actual escape room game, a real laser maze, escape room, theater, human bowling, human foosball, soccer billiards, outdoor TV, and more," the house's Airbnb advert states".
To be honest, I just want to move in and live there myself. If you need to me to dress up as Cluedo's Mrs. White and play cleaner, I'm more than happy to oblige.
[Featured Image: Airbnb]